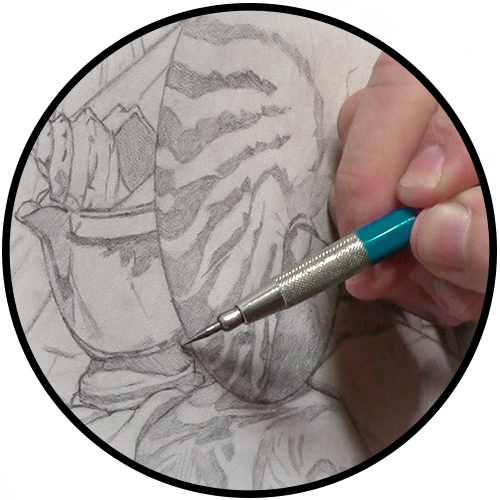 LEARN TO ACCURATELY DRAW WHAT YOU SEE
WITH ARTIST DOUGLAS FLYNT
---
This course looks at the visual drawing tools that helped me become successful at drawing from a reference. For many people drawing seems to be something they are either good at or not good at. In reality, drawing is based on simple problem solving, or ways of thinking, which anyone can learn. Of course, you have to practice these ways of thinking in order to get good at applying them and achieving consistent results.

The first step on this path is to consciously know what to look for along with the problem solving involved to replicate your observations. This course shows you the crucial visual drawing tools I use every time I draw (or paint) and a step-by-step demonstration of how to use them. Knowing this information will put you on the right path towards excellent draftsmanship.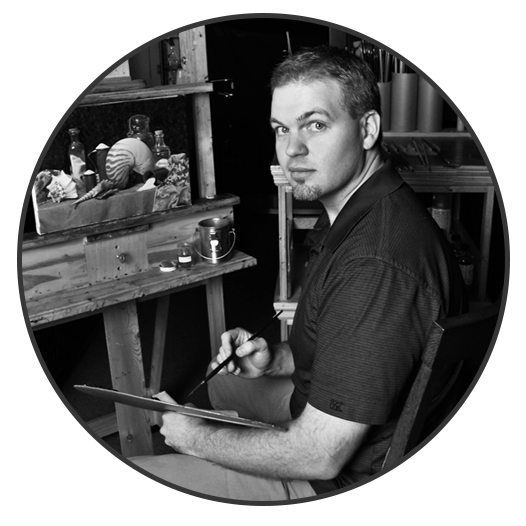 HI, I'M DOUGLAS FLYNT
I HAVE A LOT OF EXPERIENCE DRAWING (AND PAINTING TOO)

---
Like many artists I have been drawing ever since I was a kid. Once I reached college I started studying more comprehensively. After getting a BFA, an MFA, studying in an atelier, and apprenticing with a portrait painter and sculptor, I started selling artwork professionally in 2003.
Even though I also work on figures and portraits, these days I am mainly known for my still life paintings. For the vast majority of my still life paintings I do a comprehensive preliminary drawing. These preparatory drawings are mainly linear in nature. I don't usually do any significant shading, figuring I'll save that energy for the painting. So, I have a lot of experience drawing!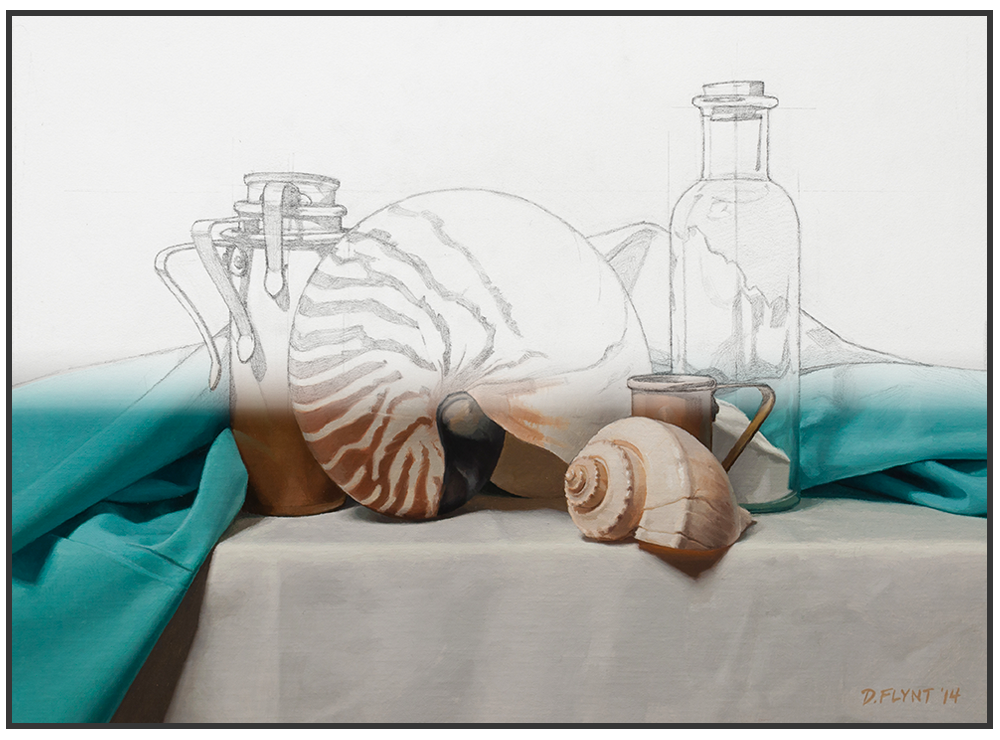 I have also been teaching other artists since 2004. I have taught classes, workshops, and artists privately. More recently I started teaching online via my Virtual Study Program (click here to learn more). So, in addition to doing a lot of drawing myself, I have lots of experience explaining drawing to other artists.
While teaching I've found most artists need help improving their drawing skills so they can make better drawings and paintings. Often artists haven't been taught simple ways of problem solving to accurately locate where to put a mark, stroke of paint or mass of color. They also don't often have a simple procedure for drawing that they can rely on.
This is why I have put together this course. This course is to help you get better at the fundamentals of drawing, which holds your artwork back.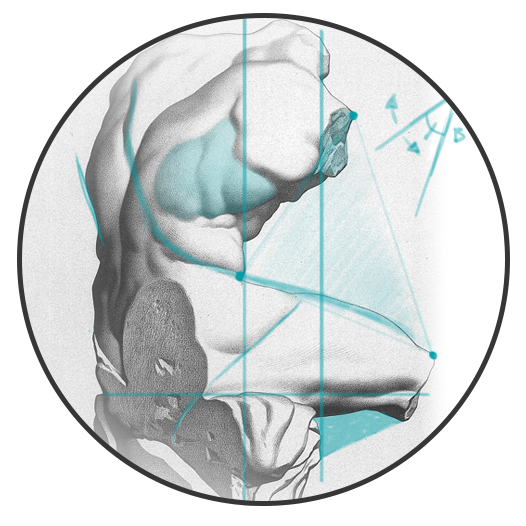 COURSE INFORMATION
THINGS YOU SHOULD KNOW ABOUT THIS COURSE
---


Work at your own pace.

Once you are enrolled you can watch the video lessons as many times as you would like. There are 24 videos that make up this course (over 7 hours of instruction). Take your time and work at a pace you are comfortable with.
Step-by-step demonstration. The 1st demonstration in the course really is a step-by-step demonstration! I show the problem solving behind virtually every decision. That's why this section of the course is 11 videos long, totaling over 5 hours of instruction. Of course, you can change the playback speed if you prefer to see me draw really fast!
High resolution, downloadable reference image.

If you want to follow along with the step-by-step demonstration, creating your own drawing, you can download a high-resolution version of the reference image to print out.
Video playback available in 1080 HD resolution.

As a visual artist you will, of course, want to be able to see everything clearly. The videos offer playback in up to 1080 HD resolution.
English captions available on all videos.

If English isn't your first language it can be frustrating to understand everything being said. These optional captions make it easier to translate parts of the dialogue if you need to. Of course, if you have trouble hearing they also come in handy.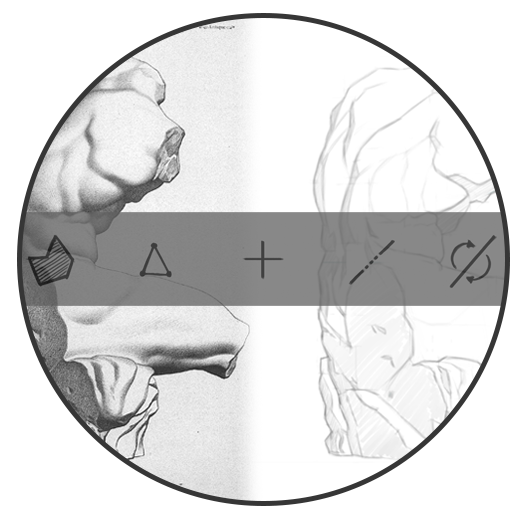 WHO THIS COURSE IS FOR
BEGINNING AND ADVANCED ARTISTS

---
This course focuses on very fundamental, but often overlooked, methods of problem solving when drawing. Drawing isn't just using a pencil. Drawing involves the ability to correctly place a mark, stroke of paint, or mass of color.

I am going to be very honest with you. I have taught hundreds of students and the number one skill most of them needed to work on was drawing (even if they didn't know it). Your drawing skills act as a limiting factor, holding back your ability to shade, render and paint. A mark, brush stroke, or mass of color in the wrong place on your paper or canvas becomes meaningless.
If you're a beginner, learning these visual drawing tools (or methods of problem solving) will give you a solid foundation for drawing accurately from observation. This course will also give you a basic procedure for drawing that you can build upon or adapt with time.
If you are more advanced but still find yourself struggling at times with the accuracy of your drawings (or paintings) there is a good chance there are visual drawing tools that you have overlooked or not yet fully grasped. You will also benefit from the course.
Either way, if you aren't getting the results you want when drawing, or even painting, then you should be taking this course.
Course Curriculum
Introduction
Available in days
days after you enroll
The Visual Drawing Tools
Available in days
days after you enroll
The Visual Drawing Tools in Practice: Digital Linear Drawing Demonstration from a Bargue Plate of the Belvedere Torso
Available in days
days after you enroll
WHAT OTHER ARTISTS HAVE TO SAY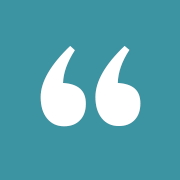 "Douglas Flynt provides a comprehensive step by step approach to drawing that will appeal to both beginners and seasoned artists. I was impressed by the simple way he takes a complex subject and makes it easy to understand and follow."

- Cecilia Brendel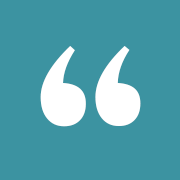 "His knowledge and teaching skills are fantastic. Many like me want to learn from high-level artists and do not have the conditions to go physically to the artist, which makes this teaching a very good learning tool. With certainty I would recommend this course to others!"
- Alison de Sando Manzoni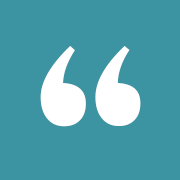 "This course equips the beginning and experienced artist with skills that hone the eye's ability to see comparative relationships between objects and make judgments that will improve both their drawings and paintings. This course is equally concise and thorough. Highly recommended."
- Fran C.
Frequently Asked Questions
How Long is the Course?
There are 24 videos in the course totaling over 7 hours of instruction.
Does the course have a starting and ending date?
No, the course becomes available as soon as you enroll. Once enrolled you work at your own pace and finish when you want. After you finish the course you can go back to previous sections as often as you want.
How long do I have access to the course?
After enrolling, you will have unlimited access to this course for as long as you like - across any and all devices you own.
What if I am unhappy with the course?
If after enrolling you decide you aren't happy with the course, contact me within 30 days to get a full refund.
Can I learn these tools without taking this course?
Of course you can, I did! The reason for taking this course is that it will save you a lot of time. I have been studying and then working as a professional artist for over two decades. Over that time I have tried out many different visual tools (and how to best use them) learning from numerous books and instructors, along with studying on my own. And through years of practice, I've worked these visual tools into a reliable procedure that guarantees me consistent results. By taking this course you don't have to go through all that!
Do you offer private instruction?
Yes, I do offer private online instruction to a very limited number of students. I call it my Virtual Study Program. If you want to learn more about it click on the "One-on-One Instruction" link at the top of this page.